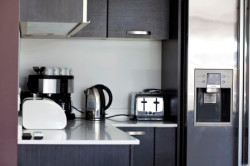 Many professionals focus their energies on major appliance repair and leave a whole niche of repair needs unmet for common household appliances like coffee makers and mixers. At Ralph's Appliance Service, we understand that your small appliances play just as important a role in your daily routine as do your large appliances. These units could cost a lot of money to replace if they are acting up or have become inoperable due to damage or deterioration. That's why, in addition to large appliance repairs, Ralph's Appliance Service is also available to perform small appliance repairs. We work on machines from all the major brands and have access to all the small appliance repair parts commonly needed to transform your malfunctioning home blender or commercial conveyor toaster back to useful functionality. So if your coffee maker is leaking or your stand mixer is on the fritz, don't just give up and replace it when the simpler—and cheaper—solution of small appliances repair is so readily available.
Ralph's Appliance Service has been performing small appliance repairs of all kinds since 1984. This hands-on knowledge means that we can pinpoint both the root of the malfunction and the best repair solution, and our technicians will make certain you get nothing but the best workmanship and durable repairs. Whether your machine is displaying severe symptoms or mere nuisances, it's a good idea to have your mixer or coffee maker examined by a small appliance repair professional to prevent its condition from worsening over time. Prompt action could mean saving countless dollars—not to mention hassle!
We can perform small appliance repairs on a wide range of residential and commercial machines, including:
Mixers
Blenders
Espresso machines
Coffee makers
And more!
To see if we extend our services to your small appliance, contact us today via phone or e-mail.
When you call Ralph's Appliance Service for small appliance repair, our technician will begin by speaking with you to receive a first-hand description of the unwanted behaviors and getting a general idea of what needs to be corrected in order to restore your machine. We'll then examine your appliance inside and out in order to identify the underlying cause of its specific malady. Once we've established the source of the trouble, we'll get right to work on correcting the issue.
Many people don't understand that small appliance repairs require the same precision and skills necessary for larger projects. One slipup or misdiagnosis could actually make your ailing machine's problems exponentially worse, or even ruin the unit completely. For accurate craftsmanship from small appliance repair professionals with more than 26 years of experience and training, contact Ralph's Appliance Service. We proudly provide small appliance repair in both homes and businesses throughout the Orlando region. Call us now for prompt, effective service from respectful, dedicated technicians.
For your added benefit, our small appliances repair professionals are fully licensed and insured.