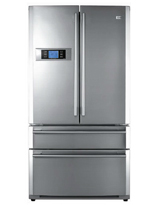 Homeowners who discover that their refrigerator is ailing or completely inoperative can find themselves in quite a bind. Not only are they now in a race against time to save perishable and frozen items from spoilage; they must also seek immediate professional attention in order to restore their machine. Even the slightest change in your refrigerator's performance could indicate potentially serious operational problems on the horizon, and every household, in order to retain the full convenience of a modern home, requires a dependable, functional refrigerator. If your fridge has recently started showing signs of damage or deterioration or has stopped running altogether, the refrigeration repair experts at Ralph's Appliance Service will be there for you. We work with all makes and models, so whether you're in the market for GE refrigerator repair or Maytag refrigerator repair, we have the resources and knowledge to restore your machine.
The team at Ralph's Appliance Service offers customers what cannot be learned by skimming a refrigerator repair manual—passion for our work. With over 26 years of training and education, our refrigerator repair professionals have the skills to handle projects of all sizes, from performing basic adjustments to installing new refrigerator repair parts. To have a refrigeration repair expert accurately diagnose and cure your unit's troubles, e-mail or call us at your earliest convenience. Some common problems that often require professional refrigerator repairs include:
Leaking
Too much cooling
Too little cooling
Uneven cooling
No cooling
Excessive noise
Excessive frost accumulation
In order to continue to offer the best possible refrigerator repair service, we are constantly expanding our education and staying informed of the latest developments in the industry. Our willingness to grow with our trade ensures that you'll receive nothing but the most effective techniques and best refrigerator repair parts and tools available today. In addition to servicing standard refrigerator compartments, we also perform refrigerator ice maker repair and refrigerator freezer repair, as well as general maintenance to prolong your unit's all-around longevity. Ralph's Appliance Service is here to be your full-service expert for fridge repairs of all kinds and complexities!
Commercial Refrigerator Repair
On top of providing residential refrigeration repair, Ralph's Appliance Service is proud to offer a full range of commercial refrigerator repairs. Our technicians have the skills and experience to work on a variety of units, including industrial walk-in and stand-alone models. As a local, family-run business, we understand that your livelihood depends on having properly functioning appliances. Whether you run a restaurant, hotel, or another business, we will put our knowledge and hands-on experience to work for you. If you've noticed a change in the way your commercial refrigerator operates, don't hesitate to call us for quick, high-quality refrigeration repairs. For more information regarding our comprehensive commercial refrigerator repair service, contact us by phone or e-mail.
Refrigerator repair doesn't have to cost a fortune. Ralph's Appliance Service strives to offer our entire range of refrigeration repair services at the most affordable rates in the Orlando region. Don't put off the refrigerator repairs that you need any longer—to arrange an appointment with one of our dedicated professionals, give us a call or send us an e-mail. We are even available to provide 24-hour emergency services to attend to your most urgent fridge and freezer service needs.