As Orlando's one-stop shop for a variety of minor and major appliance repair services, we're here to provide all local customers with unequaled expertise and customer service. Whether it's refrigerator repair, washing machine installation, or HVAC maintenance, you'll be able to count on our team for the well-rounded skills you need to get your home's or business's appliances back in tip-top shape. We're committed to providing our customers with some of the fastest and most effective services in the area, and we know you'll be blown away by our unrivaled precision. With a staff of fully licensed and insured technicians, Ralph's Appliance Service is your answer for the reliable, affordable appliance repair services you deserve. Call or e-mail us today to get started!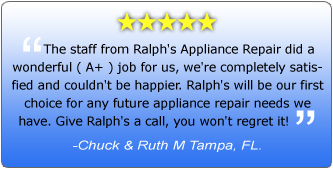 Ralph's Appliance Service has been a local, family-owned business since 1984. Serving Orlando, Kissimmee, and beyond, we've been providing residential and commercial customers alike with the benefits of our 26+ years of experience in the trade. We're proud to deliver some of the most impressive handiwork in the area, and we're even more thrilled to do so at very affordable rates. When you're in the market for dryer repair, furnace installation, or any other major appliance repair project, you can count on our team to outfit your home or commercial setting with truly impeccable results. 
You can call or e-mail Ralph's Appliance Service for any of the following:
Major appliance repair services
Small appliance repair services
Appliance installation services
HVAC repair and installation services
Same-Day Service
At Ralph's Appliance Service, we're committed to providing all of our customers with prompt, convenient appliance repair services at all times. That's why we strive to complete same-day repairs whenever possible. When you call us, we'll examine and diagnose your appliance's problem that very same day! You won't have to wait around for your refrigerator repair or dryer repair, which means you'll be able to get back to your regular daily routine in no time.
Unrivaled Experience
Don't underestimate the significant difference that experience makes. With more than two decades of hands-on training, our team is capable of providing you with the insight and know-how necessary to correctly diagnose and repair a broken appliance. When you're in dire need of large or small appliance repair, it's important that you don't take your chances on an amateur company with little to no experience. Instead, make the smart decision for you and your appliances by calling the experienced professionals at Ralph's Appliance Service today!
Garbage Disposal Repair
At Ralph's Appliance Service, we offer garbage disposal repair services in order to keep your kitchen as clean and tidy as possible. When you've got a garbage disposal with a damaged blade, stubborn clog, or messy leak, then you need to call our team right away so that you can ensure the health and hygiene of your environment. After all, a garbage disposal is supposed
to make your life easier, not messier!
Microwave Repair
Today, a microwave is not so much a luxury as a necessity. The vast majority of modern American households enjoy the convenience and time-saving measures of a fully operational microwave. However, if yours has started to malfunction in any capacity, then all of that convenience goes right out the window. Call Ralph's Appliance Service for fast, effective microwave repair and get back to the ease and efficiency you deserve!
Whether you're looking for dishwasher repair, dryer repair, or refrigerator repair, Ralph's Appliance Service is here to return your home or commercial space to full working order as quickly as possible. If you're ready to get the reasonable pricing and convenience of our same-day service, call or e-mail us now!