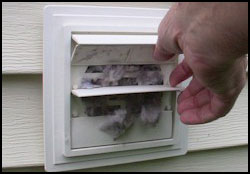 Clothes dryers have done wonders to increase modern laundry convenience. In addition to drastically decreasing the amount of time required to dry your laundry, many dryers include features such as steam settings, which can freshen your clothes and eliminate the need for an iron. Dryers save time and increase comfort, which is why it can be so frustrating when your dryer doesn't work properly. If your home dryer is acting up, you don't just have to live with the inconvenience and annoyance. Whether your dryer is on the fritz or has stopped working altogether, Ralph's Appliance Service is your answer for dryer repair in the Orlando region and beyond.
Our experienced technicians have been performing high-quality dryer repairs in Orlando-area homes for over 26 years. We are equipped to work on a wide variety of makes and models, so whether you need Maytag dryer repair or GE dryer repair, we've got the skills and experience to get the job done properly. From troubleshooting through the completed washer/dryer repairs, Ralph's Appliance Service has the parts, tools, and hands-on know-how to take great care of your appliance, eliminating its malfunctions to return your laundry room to convenient operation once again.
You can count on the team of professionals at Ralph's Appliance Service to handle a full spectrum of issues necessitating dryer repairs, such as when your:
Dryer does not tumble
Dryer does not dry
Dryer overheats
Dryer will not start
If you are experiencing any of these symptoms or have noticed a change in the performance of your dryer, call Ralph's Appliance Service to schedule prompt, high-quality dryer repair service now. We specialize in same-day service and cost-effective pricing, so you can count on us for great service as well as expert washer/dryer repairs!
Commercial Dryer Repair
As well as offering residential services, Ralph's Appliance Service is proud to provide a full range of commercial dryer repairs to the businesses of the Orlando region. Whether you own a commercial laundromat full of coin-operated dryers or you run a hospital with industrial-capacity dryers, we can help restore your units to prime operating condition. No dryer repair is too large or small for us, so put down the dryer repair manual and leave the work to the pros. Our team of commercial dryer repair specialists has over 26 years' experience in the field, so whether you need gas dryer repair or electric dryer repair, we've got your solution. We pride ourselves on providing prompt, thorough dryer repair, so you can count on us to get your business back on its feet in no time. For more information about our commercial clothes dryer repair services, contact us by phone or e-mail.