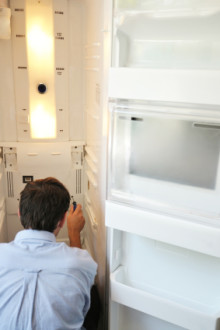 Troubled appliances are occasionally too old or damaged to warrant repairs, especially if the machine is in need of multiple parts and adjustments. If you're the owner of such an appliance, it may be time to consider retiring it and investing in a brand-new model. After you've taken the time to select the perfect replacement and make your purchase, contact Ralph's Appliance Service for professional appliance installation services. We proudly serve property owners located throughout the greater Orlando area and have a genuine interest in using our appliances installation skills to help every customer enjoy superior performance from their new dryer or dishwasher. For a winning blend of technical savvy and friendly customer service, e-mail or call us today.
Appliance installation isn't always as simple as plugging a cord into the wall—it is a delicate process that has a direct effect on your unit's life span and performance ability. In order to be certain that your appliance is properly equipped for many years of flawless service, enlist the help of one of our professional appliance installers. We have a full range of residential appliance install experience, and we'll be able to hook up all of the required gas lines, water connections, and electrical plugs with precision and ease. We will begin the project by analyzing your building's particular layout and your unit's unique construction to determine what would be the fastest and most effective approach. Once we have established a plan, we will safeguard all surrounding surfaces, including countertops, floors, and walls, to ensure that no collateral damages occur during the appliance install process. With the help of our expert residential appliance installers, you'll truly receive the maximum return on your investment.
Ralph's Appliance Service is available to install appliances of various types, including:
Refrigerators
Freezers
Washing machines
Dryers
Dishwashers
Ovens
Ranges
Trash compactors
Cooktops
Garbage disposals
And more!
It may be tempting to consult some online tutorials and attempt appliances installation yourself, but DIY work comes with various risks, including personal injury, safety hazards, and costly damages to the new appliance and surrounding property. If you'd rather avoid these consequences and enjoy many years of quality service from your new fridge or dryer, call in the appliance install experts at Ralph's Appliance Service. We'll treat your home and appliances with absolute respect, while working hard to bring you a flawless result.
Each appliance installer at Ralph's Appliance Service is fully licensed and insured, and we install appliances using only time-tested industry techniques and tools. There's no other team of appliance installers in Orlando that can provide you with the same great combination of friendly customer service, excellent workmanship, and low prices, so call or e-mail us today to get started.