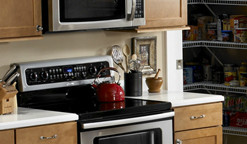 A lot of effort goes into creating the perfect meal—acquiring the right spices, finding the perfect recipes, knowing how to use fresh ingredients—so many things come together to create fabulous dishes that the whole family will enjoy. Not all of the credit should go to the chef, however. Every cook, no matter what their tastes or talents, owes some of their success to a dependable, top-notch oven or stove. Every kitchen should be equipped with safe appliances that are able to deliver delicious results to the table again and again. Many homes, however, have to contend with appliances that spark, overheat, or don't turn on at all. If this describes a cooking appliance in your home's kitchen, contact the team at Ralph's Appliance Service today for stove repair, oven repair, or range repair. We have the skills and resources necessary to accurately troubleshoot your appliance, pinpoint the underlying source of the problem, and select an effective solution. We are able to work with both electric and gas units, so whether you're interested in electric stove repair or gas range repair, Ralph's Appliance Service is the name to know in Orlando and beyond.
Common problems that may require the attention of an oven or range repair professional include:
Uneven or inadequate heat
No heat at all
Excessive heat
Oven getting hot on exterior
Door not closing
Dials, lights, timer, and other features not working
Sparks
Due to the risk of electrical shock, gas leaks, and fire hazards, amateur stove and oven repair is not recommended. In fact, such endeavors can even wind up causing further damage to your unit and costing you more money in the long run. If you're in the market for oven repair or stove repair service and want to make certain that your appliance receives truly quality craftsmanship, contact Ralph's Appliance Service. We have more than 26 years of experience with everything from gas range repair to electric stove repair and use nothing but the finest quality tools and replacement parts to ensure long-lasting results. We service all brands and are able to take on jobs of all proportions, so pick up the phone now for assistance with both routine maintenance and major repairs.
Commercial Oven Repair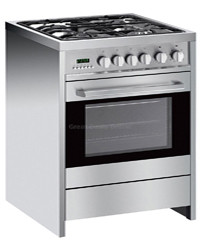 In addition to residential repairs, Ralph's Appliance Service is proud to provide the business owners of Orlando with a full range of commercial oven repair services. With over 26 years of hands-on experience, our oven and range repair technicians are fully qualified to perform repairs on a variety of commercial units, including industrial ovens and fryers. No job is too large or small for us to handle. Don't let the success of your business suffer because of a malfunctioning oven or range: Call Ralph's Appliance Service for prompt, thorough commercial oven repair service.
Ralph's Appliance Service stands out from competing range and oven repair service providers by offering clients a combination of cutting-edge technology, comprehensive customer care, and a genuine interest in our work. We don't consider any project a success unless our customer is 100% satisfied with our service. In addition to our dedication to quality, we aim to keep our prices low so that customers on every budget can easily afford professional stove repairs and oven repair service. For more information on our policies and procedures or to set up an appointment, call or e-mail us today.